Introduction To KAVA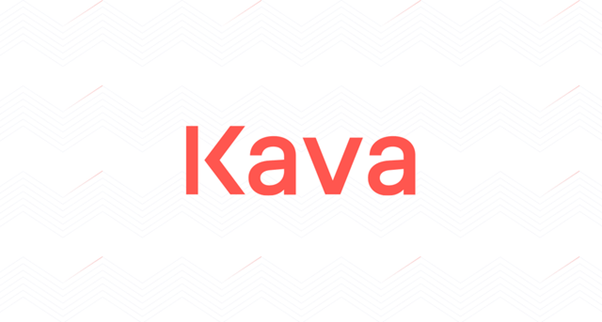 Kava is a decentralized finance (Defi) platform that allows users to issue loans to themselves using their cryptocurrency as collateral. Kava is a decentralized lending platform that seeks to bring new flexibility to the Defi space. The KAVA platform is known for its cross-chain capabilities and unique lending strategy. Through Kava, users can borrow USDX(the KAVA stable coin) tokens by depositing collateral, effectively leveraging their exposure to crypto-assets. With Kava, anyone can use a handful of major cryptocurrencies (BTC, XRP, BNB, and ATOM) as collateral to generate self-issued loans without running a credit check or finding a counterparty.
Kava resides on the futuristic Cosmos blockchain. Cosmos is a fourth-generation blockchain that seeks to help categorize and leverage the growing number of blockchains in the market. Cosmos has a native token called ATOM. Kava Protocol operates with the same consensus mechanism as the cosmos blockchain, which is a Tendermint-based Proof-of-Stake (PoS) consensus mechanism that offers Byzantine Fault Tolerance; this means when 1/3 of the validator nodes fail or display malicious behavior, tendermint PoS system will stall until the problem/faulty nodes are rectified.
BACKGROUND
The parent company behind Kava is KAVA labs inc and it was co-founded by Brian Kerr, Ruaridh O'Donnell, and Scott Stuart. Developers of Kava specifically developed the system to provide stablecoins and decentralized lending against all major crypto assets more transparently and simplistically. Kava aims to provide a platform that is compatible with major crypto assets, including Bitcoin, XRP, BNB, and ATOM.
HOW DOES KAVA WORK?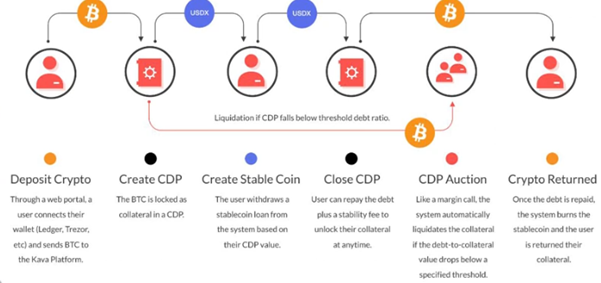 Deposit Crypto: the user deposits their crypto on the kava platform through the use of a web portal; this is done by connecting their wallet to the platform and sending their desired amount of crypto asset to the Kava Platform.

Create CDP: Kava locks in the amount deposited, and it is now used as collateral for a CDP (collateralized debt position); this is a smart contract that holds the cryptocurrency debt and adjusts based on issuance or redemptions. CDP serves an important purpose; not only is it needed to initiate a loan, but Kava will liquidate your collateral if it falls below a particular debt ratio threshold, which helps protect the Kava ecosystem.

Create Stable Coin: once the user has locked up the collateral, they will be issued the equivalent amount by the Kava platform in the form of their own stable coin USDX.

Close CDP: To unlock your collateral at any point, all the user has to do is pay the debt and a stability fee.

CDP Auction: like a margin call, the system will automatically liquidate the collateral if the debt to collateral value drops below a specified threshold.

Collateral returned: once the debt is paid, the system burns the stable coin, and the user is returned their collateral.
KAVA TOKEN.
KAVA is the native token for the kava platform. The KAVA token first launched in 2019 following several private sales and a Binance Launchpad initial exchange offering IEO. In total, 40% of KAVA tokens were sold to private sale investors, whereas 6.52% of the total supply was sold on Binance Launchpad, raising $3 million. The Kava token serves various functions on the Kava platform, such as;
A governance token within the ecosystem and holders of the token use it to vote on critical parameters on the platform, such as on specific parameters of the CDP system.

New Kava is created for every block and distributed to Node validators participating in the consensus process, and this serves as a form of incentive for validators.

KAVA can also function as a reserve currency for the network. If USDX becomes over collateralized, the network will mint new KAVA to utilize in the purchase of USDX. This allows Kava to ensure its stable coin retains its value.

You can also become a delegator by delegating your Kava holdings to node validators and earn rewards while still keeping custody of your assets.
POSITIVES
Kava utilizes a dual token strategy to ensure that each user gains the maximum flexibility and usability possible. The two coins that are critical to Kava are USDX and KAVA.

You can stake and bond USDX stablecoin to start yielding a healthy passive income.

The fast finality of the Kava blockchain enables USDX to be used for general payment purposes on many blockchain networks.

Traders can hold USDX as a stable asset when seeking to limit exposure to volatile crypto assets.

Kava Protocol's core functionality can be used as the foundation for a variety of financial applications. Kava Labs has built a collection of tools developers can leverage to build the financial future of tomorrow.

Kava allows for different types of crypto assets as opposed to other lending platforms that offer the same services.

Services that use crypto-assets can integrate Kava into their platform to offer their users financial services offered by Kava.
NEGATIVES.
The Defi space is overcrowded.
Exchanges where Kava is listed
Binance

Huobi global

Kraken

Gate.io

WazirX

Upbit

CoineX

FlyBit

Crypto.com Exchange.
Learn more from here.
CONTACT
No. 46, Alaafin Avenue, Zion House, Oluyole Industrial estate, Ibadan.